Over 66% of Indonesia's 270 million population are unbanked. Financial-service providers and fintechs offer an increasing range of services, including digital financial services. But access points like agent networks are limited and are costly to operate at scale. For many low-income Indonesians, financial services are inaccessible and the benefits of the digital economy remain out of reach.
IDEO partnered with Bank Negara Indonesia (BNI), the fourth-largest bank in Indonesia, and Grab, a multi-national startup providing ride-sharing and e-commerce. We prototyped a shared-agent network leveraging BNI and Grab's capabilities to offer new digital financial services to low-income customers.
We worked in remote collaboration throughout the 12-week engagement between the IDEO team in San Francisco and the BNI-Grab team in Jakarta. This enabled local team members to take ownership of the shared agent-network experiments, design for their own communities, and to test and learn directly. In many ways, this level of collaboration was unprecedented between the bank and the startup team, combining multi-disciplinary skills and expertise in a design-sprint approach, and leveraging the capabilities of the two networks of BNI banking agents and Grab Kios micro-retailer agents around common goals.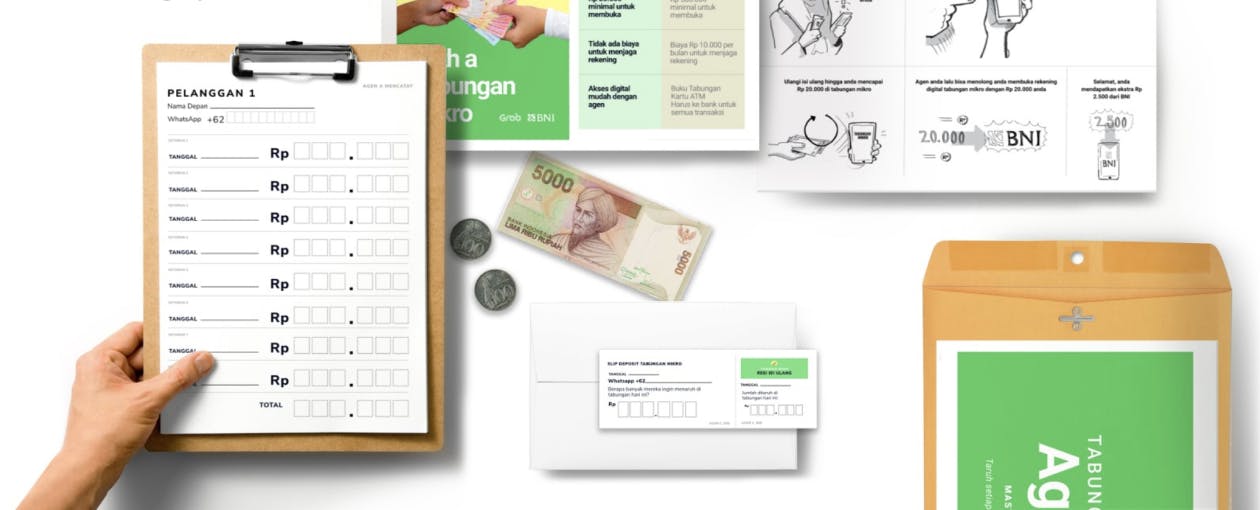 In a six-week rapid experiment period, we prototyped a micro-savings product through a shared-agent network. Each week, Grab and BNI team members tested value propositions, incentives, and onboarding methods with agents in Jakarta, while IDEO provided design and coaching support from the US. The video above captures highlights of our rapid experimentation with this shared-agent network.

The team designed a new Flex Agent model to leverage a shared network between BNI and Grab, in which micro retailers who hold trusted relationships with customers can deliver digital financial services. We developed the experience for this new model including new service touchpoints, digital interactions, recommendations for optimization, and user insights which inform key changes. In addition, we created a business model to validate aspects of how a Flex Agent can viably operate for our two partners. This model was co-designed with partner data and through iterative worksessions. We are excited to validate the shared-agent model moving forward with our partners.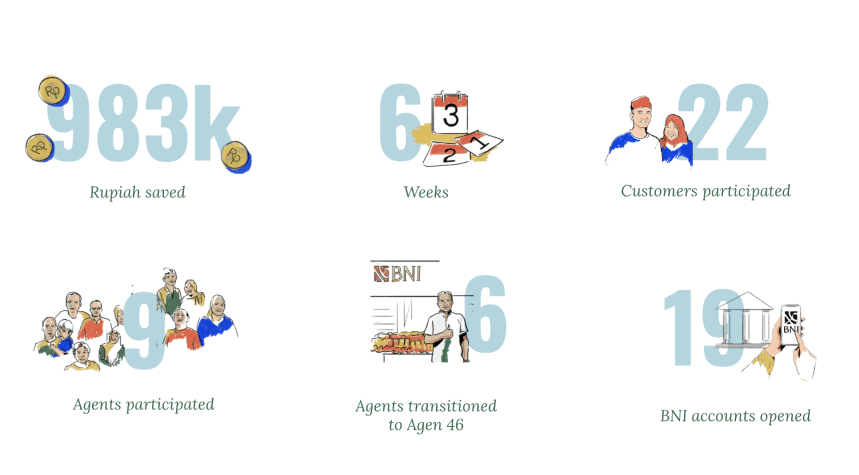 Interested in collaborating on an exciting initiative?